RETAILER STORES & CHAINS
Visitor count is the missing element of the performance equation that many retailers were waiting for. Knowing the customers' flow traffic is essential to analyze the performance of a business and guarantee a good service to customers.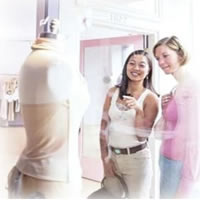 Many retails familiar with their valuable tools - CONVERSION RATIO which deliver the custoer sale ratio throught the day in real-time by constantly track their performance and implement changes neccessary to improve performance.
Sales data in POS system can only tell a retailer what happened but not why and can't tell whether sales are being missed because shoppers entering the sotre walked out whithout buying. VTA provides solution for retailer to convert shopper into buyers by providing insight into consumer traffic patterns for each store location and captures information on traffic flow entering and leaving from store.
BENIFITS
Improve Conversion Ratio : Conversion Ratio is the total sales transactions divided by the total traffic which entering to store. It turns the missed opportunity into actual sales. Reviewing changes in the conversion ratio subsequent to significant events (such as an ad campaign, a special product promotion) can help retailers understand the impact of of these events.
Advertising / Promotional Effectiveness : Great advertising will generate traffic and analyse on-off promotions. By knowing how many consumers responded to a particular ad or offer. Evaluate how effective advertising efforts are bringing customers into store and make better-informed decisions in the future.
Predictable Patterns & Staff Scheduling : By traffic counts, predictable pattern helps store operation from staffing, to inventory levels, etc. Retailers are understaffed during peak traffic times and losing sales or paying too much for labor during inopportune times. .Aligning staffing levels to more closely follow traffic patterns will enable better service availability
Average time in store : Retailers look at the distribution of traffic by hour, day of the week, store location, seasonal periods, promotion periods, total chain etc. The longer customer spends in a store, the greater the sales dollars spent
Eliminate Excuses : Staff Performance will be easy to determine as the statement " there were no customer ! " can now be verified. If customers were there but staff failed to close the sale, training and coaching can resolve the problem
Improve Customer Service : Use the conversion ratios to assess the need for staff traning or as a motivational tool by setting uo a reward programme for improvements.
Improve Leasing Opportunities : Determine which storefront draws the most traffic by comparing the multiple locations.
Window / Display Draw : Changes on front window and measure the impact on customers entering the store